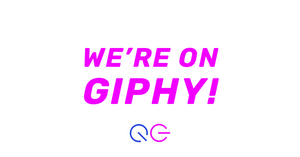 We're on GIPHY!
We've been having some fun lately making some animations of our Pink Progress Pride Heart design. Naturally, our next thought was: how can we share these goofy little GIFs with everyone?
Well, we have some fun news: Queer Geekery has successfully registered as a business on GIPHY.
What this means is that, not only can you find these GIFs in GIPHY's database...
...you can use them in your Instagram stories or on your TikToks as stickers just by searching for "Queer Geekery"!
How would you do this on Instagram, exactly?
1. When you're creating an Instagram story, click the sticker button 
2. From the search bar, type "Queer Geekery"
3. Select any one of our GIFs and put them all over your posts!
We'll continue to tag all our little GIFs with Queer Geekery, so they'll be easy to find all at once on any App, site, or keyboard that uses GIPHY to provide its GIFs. 
Check out Queer Geekery on GIPHY here!
---