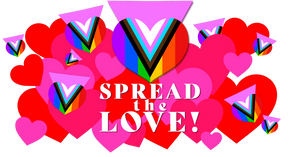 Spread the Love! - Valentine's 2022
We admit it: we're suckers for a box of Godiva chocolates and a corny Shoppers Drug Mart Hallmark card, too. But no one can celebrate queer love like queer creators can! So if you want to find heart-themed goodies and chocolates to celebrate Valentine's Day and also want to support some amazing queer businesses, look no further: Queer Geekery's put together a little list of some of our favourite 2SLGBTQI+ owned businesses from the Toronto area to get you started!
Valentine's Cards & Chocolates: 

Lovespace Studio 
Greeting Cards & Gifts Featuring BIPOC and LGBTQ+ Narratives
(Instagram)
Art (and greeting cards!) focusing on social justice, feminism and LGBT+
Hotshot Chocolate
A Queer Chocolatier based in Toronto!
(Instagram | Erotic Instagram!)
 Other Awesome Creators: 
Two Blokes Cider
Award-Winning, Farm-Based Cidery with a Great Patio (and a friendly dog)
Queero Gear
LGBTQ+ Inspired Art Prints, Mugs, and Stickers
Yerpers Official
A crafty queer business that values communal liberation

My Pet Cephalopod
Fun queer STEM stickers and such
Operation Soap
Toronto-based, sustainable, queer activism-inspired gear!

Toronto Dick Candles
Exactly what you expect!
Of course, also check out these many Pink Progress Pride Heart items from Queer Geekery!
Remember, for each Pink Progress Pride Heart item sold, Queer Geekery donates $2 to Egale Canada, AND shipping is FREE for Canadians! Buying any of these items are a way to support advocacy work for the 2SLGBTQI+ community AND get some heart-themed gifts from a small queer-owned Canadian business! 
---