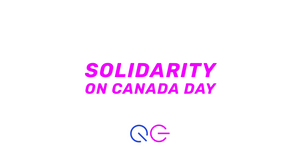 Reckoning With Canada's Past, Committing to a Better Future
Today is Canada Day, and this year more Canadians are reckoning with the horrific realities of the nation's imperialist, colonial past.
We at Queer Geekery are not celebrating this year.
Instead we, as settlers, join in solidarity with the First Nations, Métis, and Inuit people mourning over 1,000 dead children recently discovered on the grounds of former Residential Schools across the land now called Canada.⁠
ALL PROFITS on Canada Day (July 1, 2021) from EVERY item in our catalogue will be donated to the Indian Residential School Survivors Society (IRSSS).⁠ ⁠
We commit:
--------------
Update 7/2: Since we only made one sale on July 1, we added our own contribution to raise our donation to the IRSSS to $25. 
---