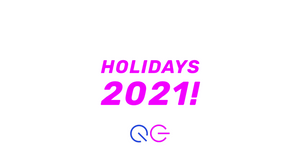 Queer Geekery's 2021 Holiday Collection!
The holiday season is back with a vengeance, folx! Thanksgiving, holiday parties, Black Friday shopping, and family gatherings might be all slightly different as we exit the pandemic--but they're back on and in-person. Whether you're looking for a cute sweatshirt to wear to any of those events, or need to bring an awesome gift, Queer Geekery's got you covered. So clear some room in your inventory and load up our Holiday 2021 designs and gift cards!

Update: Check out our holiday shipping guide below!
"Fruitcake" used to be an insult, but like the word "queer" we don't see why it's something you can't wear proudly as a badge of honour this year. 
Naughty and Nice isn't a binary--you can be one or the other, both, or neither! Get this sweater if you're both nice and naughty, or if you think non-binary thinking is important!
This design has a simple candy cane design wrapped in the progress pride flag colours, because the holidays can (and should) be a time to think about liberation, too!
I mean, Santa's a daddy. Nuff said. 
If you're decking halls will holly and being jolly, you don't have to wear a rainbow to don your gay apparel. This design is perfect for the gay minimalist on your list!
This adorable white elephant was designed with a "White Elephant Gift Exchange" in mind, but it's also just a cute design any 2SLGBTQIA person or ally could wear year-round! Available in MANY colours (and as a t-shirt!). 
Last but not least, this year we're offering GIFT CARDS! Send an electronic Queer Geekery gift card to that special person and let THEM pick the perfect t-shirt, hoodie, or sweater! Note that, because this store is proudly Canadian, gift card values set for round numbers like $25, $50, $100 in Canadian Dollars may appear in slightly odd denominations for customers from other countries. 
These sweatshirts and tees are perfect for wearing to holiday parties or for gifts, whether you're celebrating Life Day, Festivus, Krampusnacht, Solstice, Saturnalia, Hanukkah, Pancha Ganapati, Kwanzaa, Christmas, world AIDS day, Boxing Day, Yule, or any other special day in December!
Feel free to reach out to us on Instagram or via our email on this site if you have any questions at all. We'd love to help!
---